CURRENT ISSUE
LATEST ARTICLES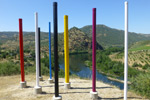 Aldeaduero Building An Art Paradise
by Al Orensanz
The territories of Aldeaduero (Salamanca, Spain) have eluded the view of the European Continent for thousands of years...
>> READ MORE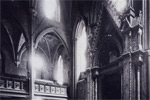 Sacred Space: Art In Non-Neutral Environments
By Zoe V. Speas
"Religion is a matter which lies solely between Man & his God, thus building a wall of separation between Church and State."
The "wall" for which Jefferson advocated in his 1802 epistle to the Danbury Baptist Association provides a healthy buffer between two great institutions, happily avoiding the consequences of their potential collision. Like the negative and positive poles of a magnet, "church" and "state" exist in easy opposition of one another. With the constitutional separation, fear of political upheaval from the influence of the church (or vice versa) quickly became an antiquated fear, relegated to the sumptuous history of thrones and empires.
The question of separating religion from the State now morphs into the new question of separating religion from contemporary art. In New York City, organizations cross boundaries of religious sect or affiliation to offer an answer. Many institutions—such as the Church of St. Paul the Apostle, the Judson Memorial Church, and the Angel Orensanz Foundation for the Arts—use their unambiguous identities to foster the cultivation of new art, as well as the livelihood of their spiritual communities.
If you like what you just read please subscribe so you don't miss a thing!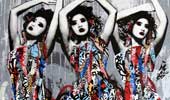 WRITING ON THE WALL
By Cathleen Oberholtzer
Bright, vibrant, loud. These are just three words used to describe street art found across the world; dotting the urban landscape long...
>> READ MORE
© 2013 Angel Orensanz Foundation