CURRENT ISSUE
LATEST ARTICLES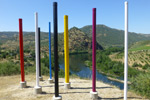 Aldeaduero Building An Art Paradise
by Al Orensanz
The territories of Aldeaduero (Salamanca, Spain) have eluded the view of the European Continent for thousands of years. The development of industry and economy that thrived in Europe in the last several hundred years has only recently begun to reach Aldeaduero, whose valleys and mountain ranges have been distant and silent for a very long time. But today, a group of forward-thinking, local entrepreneurs in those territories of Salamanca are bringing Aldeaduero to the forefront of the world.
Sculptor Angel Orensanz has worked in water front projects at the waterfalls of Sagadaira (Japan); in large urban parks like Holland Park (London), and the regional train station of Sarria in Barcelona. He built even a sculpture conceptually similar to that of Aldeaduero at the entrance of his own Foundation located within New York City's Lower East Side of Manhattan—there, on the steps of the Norfolk Street building, a small forest of steel-cast tree trunks welcomes visitors from around the world.
If you like what you just read please Subscribe so you don't miss a thing!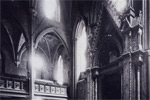 Sacred Space: Art In Non-Neutral Environments
By Zoe V. Speas
Religion is a matter which lies solely between Man & his God, thus building a wall of separation...
>> READ MORE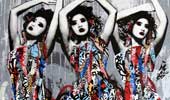 WRITING ON THE WALL
By Cathleen Oberholtzer
Bright, vibrant, loud. These are just three words used to describe street art found across the world; dotting the urban...
>> READ MORE
© 2013 Angel Orensanz Foundation