PAST NUMBERS
Spring 2012
TEXTS
AN INTRODUCTION
by Al Orensanz
THE NATURE OF TRANSIENCE
by Cathleen Oberholtzer
ANGEL'S BURNING BRONZES COME TO NEW YORK
TOWARDS A METHODOLOGY OF ANGEL ORENSANZ
by Carlo McCormick
THE ART HAS SPOKEN
by Cathleen Oberholtzer
WRITING ON THE WALL
by Cathleen Oberholtzer
Bright, vibrant, loud. These are just three words used to describe street art found across the world; dotting the urban landscape long before it was even given a name. Back when it was merely a simple act of writing one's name on the wall to spread notoriety. After all, there has always seemed to be some sort of fascination about writing or drawing on a surface. Especially when it's not allowed. It is all but embedded into human being – from the cavemen and their walls to infants with crayons.
No matter the continent or culture, names and messages can be found engraved on walls. Street art began in the most basic of manners. People would just write their names or a message on any surface they could. One such individual was Joseph Kyselak, who is often considered to be one of the originators of street art as it is known today and wrote his name all throughout 19th century Austro-Hungarian1. It was something that began as a bet, to have his name known all throughout the empire, but he continued even after the bet was finished. The phrase "Kyselak was here" can still be found written on stonewalls of the former empire, and his phrase is something that is recreated by numerous people today, by replacing his name with his or her respective name. It is with Kyselak's work and other documented vandalisms found in history, that street art began.
This vandalism continued to grow and evolve throughout history, becoming what is known today as graffiti and street art. The artists of which writing their names – or "tags" – on buildings, trucks, trains, anything they can mark. Much like with Kyselak, this is often done in order to spread their name. In New York City it was a goal for graffiti artists to spread their name to all five boroughs. Tagging ones name expanded to "bombing" – or rather covering entire areas with tags and art.
If you like what you just read please subscribe so you don't miss a thing!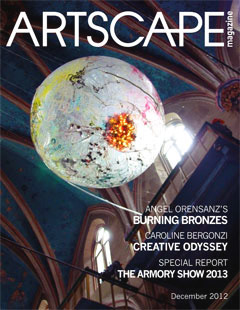 #01
#00
© 2013 Angel Orensanz Foundation