PAST NUMBERS
Spring 2012
TEXTS
AN INTRODUCTION
by Al Orensanz
Artscape Magazine reflects the cultural and artistic activities of the Angel Orensanz Foundation, a Manhattan based organization for the arts and culture. Operating from a historic gothic-inspired building first built in 1849, the Foundation tries to absorb and maintain the artistic energy that has always saturated New York City.
Lower Manhattan, especially the Lower East Side, has always served as a hub for various artists and their artworks. Many artists have emerged from or have had their artwork tied to the Lower East Side in some way including Leaves of Grass by Walt Whitman, and Emma Goldman's Anarchism and Other Essays.
In keeping with its cultured and artistic surroundings, the Angel Orensanz Foundation has been home to many of these artistic activities and events including performances by various artists such as Elliot Carter, Florence and the Machine, and the Black Eyed Peas; it has hosted a production of Rainer Fassbinder's The Garbage, The City and Death; and has exhibited the works of various artists including, but not limited to, Caroline Bergonzi, Amparo Garzon, Hangar't, and of course Angel Orensanz. Artscape magazine is just one of the many ways the foundation contributes to the thriving artistic atmosphere that is found in the Lower East Side.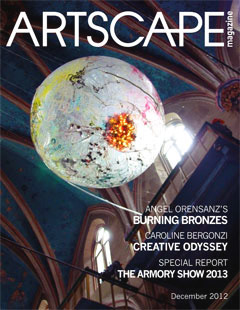 #01
#00
© 2013 Angel Orensanz Foundation