PAST NUMBERS
Spring 2012
TEXTS
AN INTRODUCTION
by Al Orensanz
THE NATURE OF TRANSIENCE
by Cathleen Oberholtzer
ANGEL'S BURNING BRONZES COME TO NEW YORK
The sound of bottles of wine being uncorked and a crowd from the streets of New York City marked the impressive opening of Angel Orensanz's latest exhibition, Burning Bronzes. Presented in none other than the Angel Orensanz Gallery, this exhibition stays true to the foundation's name by celebrating the great work of Mr. Orensanz himself.
Though Orensanz is an active artist, traveling where his art takes him, it has been quite some time since a collective display of his work had been presented. Burning Bronzes marks the end of this period by displaying some of Orensanz's great works including several bronze sculptures, the Body Series, and a few of his famous totemic sculptures.
Burning Bronzes is an exhibition that pays homage to the truly unique work of Angel Orensanz. Displaying several of his signature totem sculptures, which rise to an impressive height, the artist has brought some of his creations home for all to see.
If you like what you just read please subscribe so you don't miss a thing!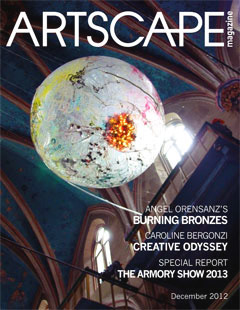 #01
#00
© 2013 Angel Orensanz Foundation