PAST NUMBERS
Spring 2012
TEXTS
AN INTRODUCTION
by Al Orensanz
THE NATURE OF TRANSIENCE
by Cathleen Oberholtzer
ANGEL'S BURNING BRONZES COME TO NEW YORK
TOWARDS A METHODOLOGY OF ANGEL ORENSANZ
by Carlo McCormick
So fluent in transcribing the most relativistic of terms as a dynamic matter of site specifically, and so at ease in his capacity to embellish the quotidian with an unmistakable import, we could only imagine what a supreme mediator, or interpreter, Angel Orensanz would have made. He most definitely is, in the tacit means of visual expression, a true poet. And no doubt we can well be contented that he is a remarkable artist.
But working across all manner of materials and media over these many years, Orensanz has done something beyond the basic task of creating a truly idiosyncratic language and an undeniably personal body of work. Embracing ambiguity while eschewing ambivalence. Orensanz makes art that is formally open ended to the point of being problematic. If the answers then must lie in the litmus of audience subjectivity, so be it. However, if to these eyes it is impossible to read the work as not inherently political, and subversive at that, let it also be confessed that such is neither any more valid nor any more complete a purview than another. There is never a right or wrong in these things, it's just that in the case of Angel Orensanz there is a definite possibility that all such absolutes are deliberately collapsed into one another, such that we have a hermeneutic text whose reading is based upon its misapprehension. It is this, for all its fallacy that is the great pleasure here.
If you like what you just read please subscribe so you don't miss a thing!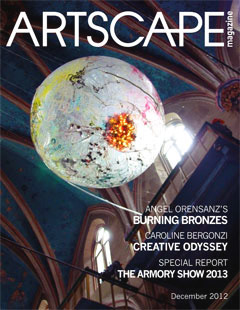 #01
#00
© 2013 Angel Orensanz Foundation