PAST NUMBERS
Spring 2012
TEXTS
AN INTRODUCTION
by Al Orensanz
THE NATURE OF TRANSIENCE
by Cathleen Oberholtzer
ANGEL'S BURNING BRONZES COME TO NEW YORK
TOWARDS A METHODOLOGY OF ANGEL ORENSANZ
by Carlo McCormick
Since its conception The Armory Show has been one of the most important art events in New York City, as well as one of the leading contemporary and modern art fairs internationally. For fifteen years now the show has graced Piers 92 and 94 on the Hudson River each March. It has gathered together artists and galleries from all over the globe, giving them a place to display their work and make connections that could very well be impossible without the fairs existence.
From its debut in the Gramercy Park Hotel in 1994 the fair has grown immensely, evolving with each passing year. Due to its increasing size it was temporarily relocated to the 69th Regiment Armory on Lexington Avenue, to which it now owes its current name. It has continued to expand, moving from the Armory to the piers on the Hudson, which is has called home ever since.
With its massive reach it is no surprise that last year alone the Armory Show hosted 228 exhibitors – made up of local and international artists and galleries. It is with this global reach that the Armory Show holds a unique footing in the world of art fairs. The vast array of artists and galleries provides a comprehensive look at what is occurring in other countries in regards to the arts. It also allows people who might have never met a chance to connect. Galleries are able to network with artists from different countries, buying beautiful pieces of art to display. Meanwhile artists, both well known and upand- coming, are able to interact with one another and make themselves known to the galleries.
If you like what you just read please subscribe so you don't miss a thing!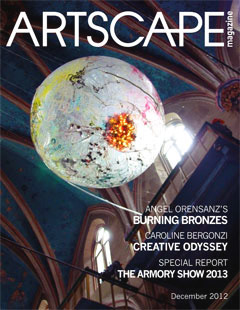 #01
#00
© 2013 Angel Orensanz Foundation