PAST NUMBERS
Spring 2012
TEXTS
AN INTRODUCTION
by Al Orensanz
THE NATURE OF TRANSIENCE
by Cathleen Oberholtzer
ANGEL'S BURNING BRONZES COME TO NEW YORK
TOWARDS A METHODOLOGY OF ANGEL ORENSANZ
by Carlo McCormick
THE ART HAS SPOKEN
by Sana Qazi
WRITING ON THE WALL
by Cathleen Oberholtzer
On October 9th the Angel Orensanz Foundation was filled with V.I.Ps and other guests to witness the work of Caroline Bergonzi, who has made a lasting impression in her home country of Monaco.
This exhibition came about after Bergonzi crossed paths with Al Orensanz himself, who invited her to present her work at the Orensanz Gallery. Creative Odyssey features over 100 of her pieces, from sculptures to paintings. Each and every one of Bergonzi's work represents, her feelings and thoughts. Bergonzi describes the pieces as extensions of herself, each one holding a personal and symbolic meaning. Her work was divided appropriately into sections: The Soul, The Body, and The Mind. She describes the soul as "an abstract, primordial element, always journeying, always evolving, and always in flux...There is an emphasis on form and movement, and the relationship between extremes of light and shadow." In this sub-collection Bergonzi displayed several mandala like paintings, which depicted the depths of the soul. With strong color contrasts and a circular pattern that brought about an intense pull, allowing viewers to discover the depths of the soul.
In The Body, Bergonzi displays works that depict the several stages of relationships between two people. In this section her art "is a harmony of contrasts, which is expressed here as a confrontation between two solid entities generating energy and light; this is chemistry, a chemical reaction of compatibility. I often use polyptych paintings to depict successive phases in relationships". Here Bergonzi displayed a set of two individual paintings depicting a married couple's tango. Both a wonderful work of art, with a beautiful colors and positioning of the figures dancing, and a symbol of the push-pull phenomenon in a marriage Bergonzi adds a new philosophical and sociological twist to art.
If you like what you just read please subscribe so you don't miss a thing!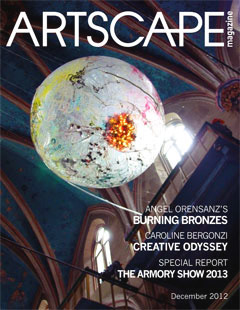 #01
#00
© 2013 Angel Orensanz Foundation