PAST NUMBERS
Spring 2012
TEXTS
AN INTRODUCTION
by Al Orensanz
THE NATURE OF TRANSIENCE
by Cathleen Oberholtzer
ANGEL'S BURNING BRONZES COME TO NEW YORK
TOWARDS A METHODOLOGY OF ANGEL ORENSANZ
by Carlo McCormick
THE ART HAS SPOKEN
by Cathleen Oberholtzer
WRITING ON THE WALL
by Cathleen Oberholtzer
THE ECCENTRICITIES OF ART
by Sana Qazi
HUMAN RIGHTS: TEXT, CONTEXT, AND SUBTEXT
by Al Orensanz
On December 10, 1948 the General Assembly of the United Nations convened in Paris, France to pass the Universal Declaration of Human Rights. The declaration was distilled from other texts and contexts that had been formulated and transmitted for no less than two thousand five hundred years. In short, the Paris Declaration condenses a progressive conception of the citizen as a conscious subject, as well as a member of a diverse community to which everyone is called and invited. It summarizes events, documents, and speeches that have shaped what we can call the canon of Western Civilization: including the Cyrus Cylinder, the code of Hammurabi, the Ten Commandments, sections from Plato's Republic, the Sermon of the Mountain, the Magna Charta, the Declaration of Independence, the Bill of Rights, John Stuart on Liberty, the Gettysburg Address and Martin Luther King's "I Have A Dream".
The Declaration, as it is a series of texts and not just a series of oral statements, moves along two double directions. It opens the past to a new situation, while also endowing the blurry present with the glamour of the past itself, making our moment, which is always fleeting and undecided, gain a layer of transcendence and permanence. It is, in essence, what Hans G. Gadamer calls the hermeneutical circle. The significance of the written text resides on its condition of what Karl Marx would call reification. The spoken thought becomes objectified and the fluidity and transiency of the spoken word and thought becomes materialized. The product is elevated to a theoretical dimension of power over the producer. The face of Eleanor Roosevelt holding a big parchment with the text of the Declaration in Paris brims with the transcendent joy and amazement of somebody who just unearthed the Rosetta Stone. The immediate mental climate in which the Universal Human Rights Declaration took shape is the golden age of the existentialist philosophy of Martin Heidegger, Jean Paul Sartre, Albert Camus, Karl Jaspers, and Edmund Husserl, with the underlying presence and impact of Soren Kierkegaard and Friedrich Nietzsche.
If you like what you just read please subscribe so you don't miss a thing!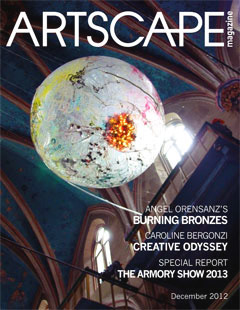 #01
#00
© 2013 Angel Orensanz Foundation